Dolphin and Seabass is hit directly!
<![if !vml]>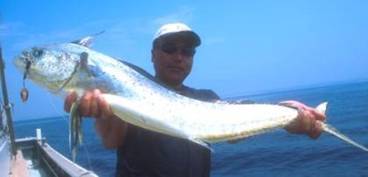 <![endif]>
16倗亸1.130-丂22倗亸1.130-丂丂40g亸1,210-
仭丂Information about new price from 2008 Aug 01丂仭
<![if !vml]>

<![endif]>The depth maintenance stabilized by the head lip
is possible!The head lip absorbs the lift the of line
at the time of reeling, and depth of water is kept constant.
<![if !vml]>

<![endif]>SPARKLE JIG 40g which hits directly the dolphin!
It is overly effective also in Seabass of the depth water.
<![if !vml]>

<![endif]>Anglers are easy to cast 22g & 16g is hit of points exactly!
Although this jig is small body, this jig dive to deep place.
<![if !vml]>

<![endif]>It is very effective when attacking
the Seabass hiding in structure by the slow drift.