<![if !vml]>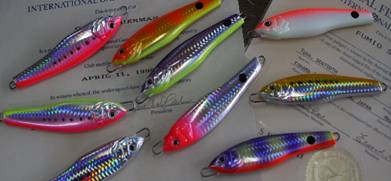 <![endif]>
It is suitable for capture of the quick tide or deep point!
It is the secret arms of a yellowtail has seen at all!
Please use for the capture of tuna with super-long
cast at the time of an adverse wind by all means!
SAKANA JIG was designed like small fish, such as a sardine
and a small horse mackerel.
The colors are the scale hologram + sardine & all paint color、
glow, and all color is battle mode!
The reverse V cuts with the sharp back, the center eye,
and the body with width realized vibration little by little
with little influence weight.
SAKANA JIG is a small and heavy dynamite!
At the time of casting, Bluefin tuna etc. can be used as
reverse by connecting the line to the front eye. 200g of
the new world of a vibration jig is opened