<![if !vml]>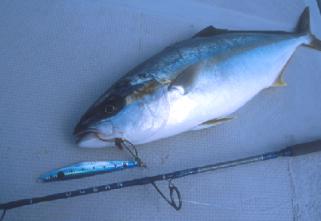 <![endif]>
We developed this jig for Yellowtail and Amberjack.
This jig move slide to side.
This jig is a side slide and influence is light with the thin shape body. This jig. is only for the blue color fish such as Yellowtail, Amberjack, etc.
The square multi-plane object and the thin body of MK2 jig double glitter of light, and MK2 jig charms the blue color fish.
The knife edge of a thin body induces the movement toward right and left trickily!!
Resistance of water was made into the minimum with the wing edge in front and in the rear, and it was compatible in the lightness of a side slide and influence.
<![if !vml]>
<![endif]>