<![if !vml]>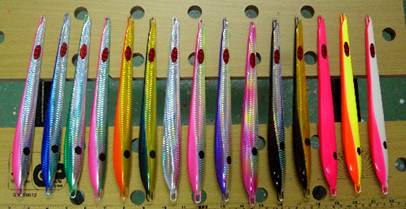 <![endif]>
01@02@03@04@05@06@07@08@09@10@11@12@13@14@15
01 pink@ 02 blue @@03@ grreen 04 pink & grreen
@05 red & gold @06 ogasawara blue gold
07 Basic @08 Pink@& yellow@ 09 Purple-blue & yellow@
@10 sakura 11 majorra @@@12 majorra & gold@
13 all pink @14 red & yellow@@15 pink & grow
<![if !vml]>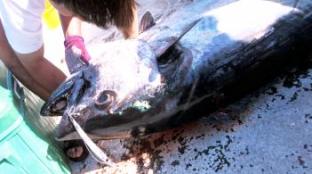 <![endif]>
However, the lightness at the time of the retrieve is very good,
so that it is called by "the ultra high-speed jig" and another name!
This jig was made from the concept "big fish is
eating large food", and was completed through
the repeated test.
The motion by the asymmetrical long and slender
body is funky and irregular action.
This jig also similar to the silhouette of the Pacific
saury which attracts attention as a bait fish is the
target popular all over the country in recent years.
The target is from a huge dogtooth tuna, amberjack
tuna to amberjack.
<![if !vml]>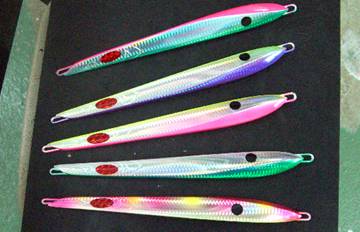 <![endif]>
04@PINK@•@GREEN@@@
09 Purple-blue & yellow
08 Pink@& yellow@
03@Green@
10@SAKURA